Oniisama E... Image Gallery
---
Click on the thumbnail for a larger image.
If you wish to use these images for your webpages, please contact and tell the webmaster before using them, and in any case, give credit. Thanks!
Cliccate sull'immagine per una versione più grande.
Se desiderate usare le immagini trovate in queste pagine per i vostri siti, vi prego di avvisare prima il webmaster, e in ogni caso di dare credito, o dire da dove le avete prese. Grazie!
---
---

Go to Image gallery page 2; Page 3
(*) Image contributed by Alex - Immagine fornita da Alex
---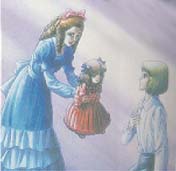 *