Please wait while the images load...
The sound files previously hosted in this page are now available in the "Music & Sound" section of this website.
---
Passages from Oniisama E... script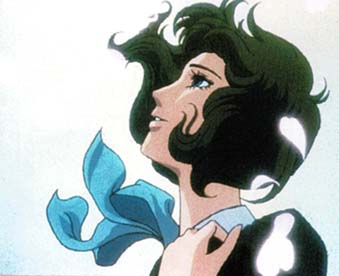 Oniisama E... is not an easy work. If one looks for action, funny moments, comedy, it isn't certainly the most suitable manga/anime. It isn't easy to love it, considering the gloomy and obsessive atmospheres the viewer is often plunged into. But if you look beyond this and start following its story patiently, you will be captured by its world, charmed by its moments of joy and pain, by the jumble of contradictions that have always been present in the female soul. I think it's not difficult to recognize oneself, or recognise someone you know, in at least one of the main characters, be it Nanako, Saint Just, Kaoru or Lady Miya.
Most of the beauty of Oniisama E...'s world is the result of Riyoko Ikeda's ability; Osamu Dezaki and Akio Sugino helped a lot too, making the characters so real... but a great part of the beauty of this fashinating journey inside the woman world comes from some narrative moments, when the characters think about the events happening - or happened - around them.
These passages are like literary pearls, that's why I decided to write them down. These are extracts from the Italian version of the anime, so I don't know how much they are similar to the original Japanese version. I did my best to preserve their beauty also in a language that's not my mother tongue, so if you think you can make them more "poetical", do not hesitate to contact me and help me improve them.
Since this page is quite long and it takes some time to read it, I suggest to save it locally. Moreover, it contains *spoilers* for those who haven't seen the whole series, so beware...
Enjoy...

---
Episode 7:

Nanako meditates on the hatred surrounding her:

I cannot understand what's exactly, but there must be something wrong in me. Since I was a child, I've always wanted to be loved by the others, even if only a bit. I thought that if I could have only a tiny bit of their love, it would have been enough for me. This way, no contrasts would have existed, and we would have all been happy. I believed this was the only thing I needed... and to tell the truth, I still believe it.

So why I must now be hit by this violent wave of deep and intense hate... of deaf and blind rage? What's wrong with me? What did I do wrong? I really hate this situation... I cannot bear it any longer.
---
Kaoru describes Saint Just:

During junior high school Rei came here from another institute. She was a very peculiar girl... she was always all alone by herself reading, and she didn't seem to have any interest for the world surrounding her [...]

Then I convinced her and she joined our [basketball] team, and she immediately became a champion... When Rei played, she was always full of life, and her eyes were always shining. It was for these qualities that I liked her... or at least, that's what I believed...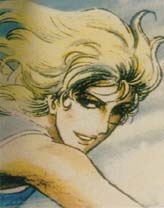 But then, I had to admit to myself that it wasn't true. What really attracted me in Rei was her non-human and incredibly superior attitude... her eyes seemed to search a distant and undefined point. What have those eyes seen? What's hidden into her soul? I do not know...

*
---
Ep 9:

Kaoru and her attitude towards life:

I have been forced to stay in a hospital for a long time. Closed between four walls, I felt the urgent need to run with all my strength, beyond any limits, until I was out of breath, and I could feel my heart... I felt my heart beating, crazily, in every fibre of my body... and the heartbeat became... music, light, and happiness.

And then I understood that being alive was a wonderful feeling. Little by little I recovered my strength and started playing basketball again, making that ball bounce and trying to score points. It's the only purpose of my life.

***

[....] Nanako thinks about Kaoru after her relapse:

"Nobody can truly understand the others, nevertheless, they worry about them. Whatever happens, you must always listen to your heart." The words [Kaoru] told me that time maybe meant that even if you worry for someone this doesn't mean you can really help them... I hate this feeling of helplessness...

[...] Nobody can really understand the others, poor Kaoru... Dear brother, she has always a shining expression on her face, and seems untouched by worries and unhappiness, but I swear that if solitude and sadness unknown to us were smouldering in her heart... I... I couldn't bear it.
---

Ep. 12:

Saint Just's dream in her feverish state:

There's a stone-flagged road that stretches far and wide on some lightly sloped hills... there's a small wagon advancing on that road... click clack, click clack, click clack...the sound of its wheels on the stone pavement resounds pleasantly ...

*
Ah.... we have finally reached the third hill... click clack, click clack, click clack, click clack... but I must reach the fifth... I feel I've always known it... and now I can clearly see its top... yes, I see its top, and I can even see you, waiting for me...
*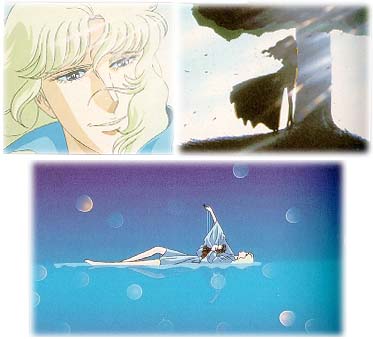 *
***
[...] Nanako discovers that Rei lives in a desolate apartment:
Incredibly, Saint Just lived in a bare room, full of mirrors and with shut windows, wrapped up in a dark, haunting atmosphere of despair... her meals were probably scanty and irregular, but the question that spontaneously formed into my mind was curious and chilling at the same time: what did she do here, all alone, when she came back home after school? My dear brother, what was her secret? What was hidden into her soul?

---

Ep. 18:

Nanako and Saint Just in the park:

Dear brother, that morning we spent a lot of time together, side by side. We slowly strolled around the lake, inebriated by the fragrance of flowers and listening to the happy chirping of birds...

Saint Just was immersed in her own world, absorbed in her thoughts. I could only stop at the limits of that world and observe. Even if I couldn't access it, I was the only one seeing that wonderful medley of thoughts... I was the only one, without intrusions from anyboy else.

I wished those moments could last forever, because in that moment I felt so happy, so satisfied I was able to be so close to her.

"Ma cherie la poupée", my dear doll... She had looked at me and told me these words many times. A moment earlier she looked at me with love, an instant later it seemed I didn't even exist... But I didn't feel like a doll at all. What was I for her, then? I had to discover it at any cost...

By the way, at that time I only wanted to enjoy those moments, every minute, every second of that beautiful sunny day withouy any thoughts, cherishing even the sound of the wind, like a wonderful music performed only for me, a dream I didn't want to wake up from.

***

[...] Nanako wakes up after she lost her senses smoking a cigarette:

Saint Just: "Do you feel better now?"

Nanako: Her beautiful smiling lips, her silken hair... But what is she, an angel or a demon?

Saint Just: "Now you understand, don't you? Smoking is horrible and destructive, and then, it doesn't suit you at all, believe me... I want you to remain exactly the way you are, don't you ever change!"

Nanako: Dear brother, I trusted her, I trusted her sweet words, her kindness, her caring attitude, her infinite goodness... Dear brother, I wasn't strong enough to believe with all my heart that this was the sweet and insidious whisper of a demon...

"I..."

Saint Just: "Mh?"

"I... love you. I love you!"
---
Ep. 19:
Nanako thinks about the events of a very special day:*

Finally I had said it, "I love you", finally. The dream I had lived together with Saint Just should have lasted forever, instead, it ended too soon...
After the afternoon classes I headed home, trying very hard to come back to earth while my heart was flying high in the sky. It was incredible, my dream didn't leave me, instead it was growing more and more inside of my head, like a huge balloon blown up by the wind [...] The streets and the shops that were so familiar to me before, now seemed strangely different... Dear brother, the balloon inside of my head was blowing up, and I wished to do anything to prevent it from bursting... that wonderful daydreaming couldn't, didn't have to end.
[...] I didn't want to remain alone... that day I felt I couldn't bear the solitude.
It was the first time in my life I had said it... until that moment I had repeated it hundreds of times in my heart, but for me, having the courage to address those words to someone was unthinkable. I didn't think I could be able to do it, however, despite my fears I had done it... that's why I didn't want to remain alone...
***
[...] Kaoru talks to Nanako about the torments of love:
Kaoru: Whatever you feel, you laugh, and then you suddenly start crying...
Nanako: I'm sorry, I'm different from the others...
Kaoru: No, not at all. We all reacted this way, sooner or later, when we fell in love. I invited you here because I wanted to talk exactly about this. If the person you love is Rei, I'm really afraid you'll end up with a broken heart, because Rei's heart is captive of the evil spell of a capricious queen. I have nothing else to tell you...
When you are in love, you can be hurt, that's what everyone says. If you were the only one to suffer there wouldn't be any problems. If I could have been sure that the other person would have never suffered too, I would have kept loving them despite everything and everyone... [...]
Love is like a bubble, and equally very fragile. It's just like a bubble in the water, it grows for an instant and then immediately burst and disappears. Life works in the same way... That's why in the instant that contains our existences we fall in love trying to receive and give love. It's the beauty of transitory things... But even if transitory, this doesn't mean everything is allowed...don't you think so? You must agree with me that I'm right, Nanako.
Nanako: Sure...
---

Ep. 22:

Nanako listens to the music of a violin, played by Lady Miya in a wood:

Sweet and sad like a cry for help, the music filled the wood, and the notes like a silver mantle wrapped up nature. Strange... who was that Fukiko, the ever-so proud Lady Miya, was calling in such a heart-rending way to receive some help?

It seemed she was tormented by an unlucky love... a love! Lady Miya was in love! But with whom? With whom?...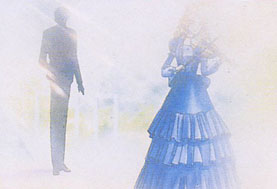 ---

Ep. 24:

Nanako thinks about the relationship between Saint Just and Lady Miya:

Dear brother, I still cannot understand the strange and obscure relationship binding Saint Just and Lady Miya... The more I was finding it difficult to understand it, the more I was afraid of their world, made of grudges and secrets, an universe that was getting increasingly darker and frigthening day by day, as Saint Just's eyes were getting sadder and Lady Miya's irascible personality wasn't hidden anymore by her false and superficial kindness...
---

Ep 26:

Rei thinks about some childhood memories related to Fukiko:

... Then I thought I would never forget your wonderful face: a 11-year-old child who had desperately cried until some instants before now had raised her head again, and pressing her lips together was hiding the signs of humiliation before the servants' eyes... I remember that that pride inspired my child's heart, and filled my soul with a sweet and secret joy...
*

Since then, my mind has always been overwhelmed by the memory of you... That's true, since that day I couldn't think of anybody else but you...
But I didn't imagine you had fallen in love. A sweet and painful feeling for poor (...), the young love of a summer that lasted only a week... in this way, in the way only you can love...
***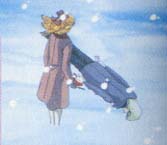 [...] I thought that...that you were going to join me very soon, so I waited... The icy snow wrapped me up like a blanket, and I was rapidly losing consciousness. I could hear you breathing while you kept watch of my last sleep, so beautiful, as always. The snow that was falling in flakes was getting softer and warmer, so comfortable. I felt like I was lying in wildflowers on a splendid spring day. Curiously enough, I felt relaxed and thought: "Ah... my body temperature is dropping..." and then... I completely lost consciousness...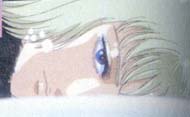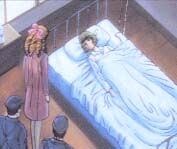 When I woke up again, I was on a bed in hospital, while you were standing motionless next to me. You looked at me sadly, your eyes fixed on my wrist. It was still snowing, and I could hear the sound of the flakes that slowly and gently landed on the ground, forming a white blanket... an imperceptible noise, yet so strong inside of myself that remained in my ears for all this time...
---

Ep. 32.

Fukiko and "the pride of the last reunion".

...However, I adore all the beautiful things, those worth of pride; I'd like to love all the things worth of pride, the beautiful ones, I'd like to love them all... I'd really like to be able to do it, and one day I'll reach these great heights. You cannot be proud if you don't want to... I asked myself very often if, like the things around me, I'm equally worth of pride or not... I feel confused... sometimes I'd like to give up my pride, but I know I couldn't be proud if I didn't want to with all my heart... so I'll preserve my pride, come what may, even at the cost of my life... even at the cost of my life...
*
---

Ep. 35

Fukiko: ... You noticed it, didn't you? I did well, I didn't shed tears during the funeral... and I didn't lose control even for a minute. Sure, I stood tall, accepting the never ending condolences of everyone... with my usual pride... you see, I'm still that proud child you met in the garden, and you were so proud of, because... because I don't have to show my tears to anyone but you, who understood me so well... my crying... my crying is only for you, my sweet sister....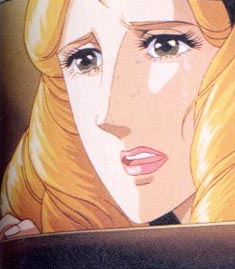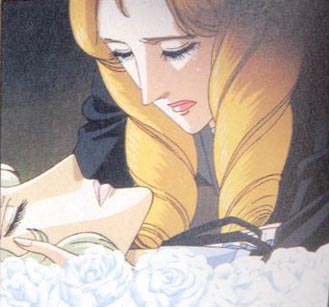 (Click on the image for a larger version)
***

[...] Nanako and Fukiko meet by chance in Saint Just's apartment:

Fukiko: I imagine that the relationship between me and Rei seemed ... very strange to you, didn't it? You know well that I loved her so much and that... I couldn't feel sure of myself until I was sure she always thought about me...continuously...

Nanako: Dear brother, after these words Lady Miya remained stubbornly silent, and we both remained still, looking out of the window, without uttering a single word.

From the window we could see a wide ship canal, and a bridge...Ah, how beautiful! That was the view Saint Just used to look at everyday... and now, instead... Lady Miya and me were in her place, in that warm night full of memories.

Do you see it, Saint Just? The sun is going to rise soon ... Another day... Another day without you is going to begin...
---

Ep. 39.

Nanako: A summer full of sun and events had now ended. A serene expression, reflecting relief for overcoming it, and faith because we were a bit grown up, could be noticed on everybody's faces...

With the only exception of the one who had bid us farewell forever, like the wind, leaving a dazzling trail in a page of my youth...

The season had changed...
---
(*)Image contributed by Alex
---